Fit For Life candidate Madam Aisah sadly never lived to realise her simple dream – walking a few step on her own. – Eliane Young reports.
Diabetic amputee Madam Aisah Hassan was making such good progress.
You will remember her as Mind Your Body's first Fit For Life candidate who began her ambitious journey with us last month.
Her goal was a simple one: Just to be able to take the few steps from her bed to the door of her room. Maybe, later, to be able to make it all the way out of her HDB flat to the lift landing.
She had been fitted with a prosthetic leg: Madam Aisah, 71, had her left leg amputated in 2001. She had been suffering from diabetes since 1988, but it was badly controlled.
Later, she developed kidney . problems and had to undergo dialysis at home.
In early November, Madam Aisah's daughter arranged for her to participate in the Fit For Life project with personal trainer Laila White.
The aim: to develop and execute a fitness programme for Madam Aisah that would allow her to become a little less dependent on family members and caregivers.
In spite of her own medical complications at times, the fitness programme went well.
She was building up strength in her upper body and was eager to reach her goal of being able to stand.
But, sadly, Madam Aisah died on Dec 8.
When I first met her in podiatrist Tye Lee Tze's clinic, she sat with her eyes downcast, her forehead resting on her arm. She didn't say a word.
The last time I saw Madam Aisah was during an exercise session with Ms White. That was last month, just four months after our first meeting.
She was in the same bed-bound predicament as during that first meeting, but there was a light in her eyes and a willingness to attempt anything Ms White asked of her. Simple stretching and strengthening exercises that, at first, were odd to her became routine in her thrice-weekly workouts.
She said she liked the bicep curl best. And she had to be told to slow down a bit while she raced through her sets.
On Dec 8, Madam Aisah's daughter, Madam Noorani Othman, 49, had just cleaned and dressed a wound on her mother's foot.
Madam Aisah asked to be turned onto her side. Then, moments later, she died. Said Madam Noorani: "She died peacefully but suddenly, leaving me unprepared in spite of knowing about her declining health and poor appetite."
The Fit For Life team that has been working with Madam Aisah were shocked and saddened by her passing.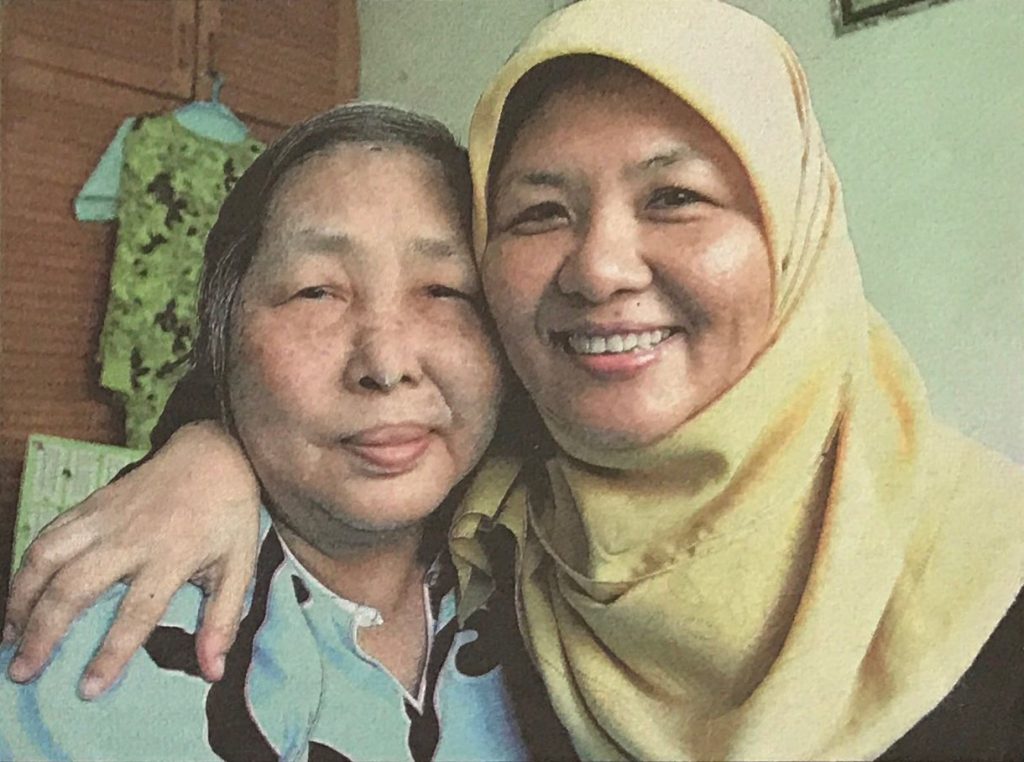 Ms White, who broke down when she heard the news, said: "It was a privilege to have met this courageous woman who gave us the opportunity to make her story heard. The hugs and kisses that I got from her fill my heart with joy and I will miss her tremendously."
She saw Madam Aisah change before her eyes. Her strength improved and her character emerged.
She tried to do every stretch and exercise correctly, with no word of complaint. She chuckled when her trainer told her how much progress she had made, and how she was going to reach her goal.
Mr Tye was saddened to hear of Madam Aisah's death.
"I thank Noorani and Madam Aisah for giving us the opportunity to see into their lives and their challenges. I have learnt that this family is a very humble, supportive and giving family."
He said he hoped Madam Aisah's efforts would give other families in a similar situation the inspiration to try and better their quality of life, rather than be resigned to the immobility and the inconvenience of it.
Two other Fit For Life team members helped Madam Aisah in this project — diabetic consultant Kevin Tan, consultant in diabetes, endocrinology and internal medicine and vice-president of the Diabetic Society of Singapore, and consultant prosthetist/orthotist Bob Yang, who said that everyone in the team would miss Madam Aisah.
He said: "Every time I saw her, she was cheerful and cooperative. She was so happy when we got her to stand, even though we had to support her."
Said Madam Noorani: "I was so encouraged by my mother's progress that it fired me up about exercise; after all, life has to go on."
Mind Your Body thanks Nike for supplying trainers, F1 Recreation for supplying exercise tubing and Dynaforce for lending Madam Aisah the TOP exercise machine.
By Elaine Young. Originally posted in The Straits Times, December 19, 2007.