Originally posted in The Sunday Times, September 18, 1994
Written by Sharon Loh
GIRLS, he is young, single, easy on the eye, and he will kneel at your feet and caress them.
Just do not take it personally. As the first podiatrist to be hired by a restructured hospital, it is Mr Tye Lee Tze's business to know about feet.
The specialty is so new here some explanation is in order: A podiatrist (pronounced poh-die-atrist) is a paramedical professional who specialises in the care of feet and lower limbs.
He works closely with doctors, who refer to him patients who do not need drugs or surgery but may require minor procedures, custom-made insoles, or to be taught how to take care of their feet.
While podiatry is an established health profession in developed countries: Tan Tock Seng Hospital had to go to Australia to find a practitioner.
Mr Tye, a 25-year-old Chinese Australian, set, er, foot in Singapore in February last year to start the podiatry unit in the hospital.
Another, also Australian, arrived this year, so it is no longer his sole territory.
(You try staying off foot puns writing about a podiatrist.)
What you will find yourself doing in his presence is tucking your feet out of his sight, secretively. Which seems to illustrate his point that feet are among the most neglected and despised parts of the human anatomy.
"When their feet hurt, people may whinge a bit, then they'll grin and bear it," he says. "But don't forget that they take the whole of your weight all of the day."
Tan Tock Seng employed Mr Tye mainly for three groups of patients: diabetics, the elderly and young people with postural problems, said Madam Ann Choo, a senior administrator at the hospital.
But why would anyone choose to spend his life tending to other people's extremities? He grins. "I guess you don't ask Junior what he wants to be when he grows up and he says, ah, a podiatrist!" He shrugs.
"I knew I wanted to do some health science, but everyone seemed to be going in for physiotherapy and occupational therapy. I wanted to do something different and feet seemed different."
He obtained his degree at the Queensland University of Technology, and no, podiatry is not chiropody with a new name.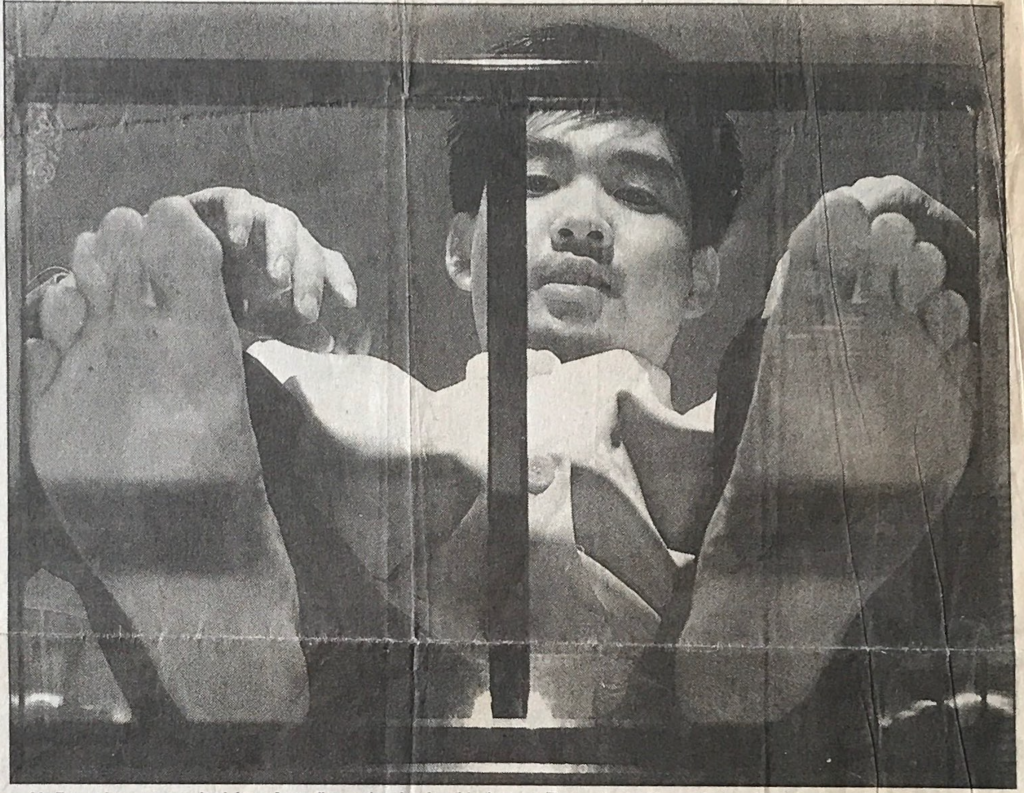 "Say chiropody and you think of a little e old lady doing corns," he frowns. "Except for state registered chiropodists in Britain, they are not formally trained. Podiatry is the systematic study of the foot and its functions."
Like chiropodists, podiatrists treat minor conditions such as wounds and calluses. Unlike chiropodists, they are also trained in how the foot functions in relation to the rest of the body.
A major part of his work is constructing orthoses, or custom-made insoles to improve the function of a person's foot.
Walk to the back of the podiatry unit at the artificial limb centre and you are likely to find him in a bizarre workshop littered with forlorn prostheses, smeared with plaster, and sculpting away at the cast of a patient's foot.
The Malaysian-born son of a news cameraman, Mr Tye chose to come to Singapore after working two years in Australia because he was familiar with this country. He also relished the challenge of pioneering his profession here.
Despite his apprehension about being the new kid on the block, doctors have taken his arrival in their stride. So to speak.
Dr Philip Chew, a geriatric physician, says: "When I was in the US, a small geriatric department would have two or three podiatrists. We didn't even refer patients to them, they would see all brand new cases.
"Every day here, I see patients with foot problems, and I have referred quite a few to him. In the past, we would advise patients ourselves but we don't have the special training of a podiatrist."
Agreeing, orthopaedic surgeon Mr Ngian Kite Seng pointed out that podiatry was a complementary therapy to surgery.
"If we can treat cases without surgery. and just by prescribing the right footwear or through orthoses, we prefer to do that," he explains. "The podiatrist also has a role to play in preventive care. For diabetics, for example, he is important in every stage of their treatment."
When their feet hurt, people may whinge a bit, then they'll grin and bear it… But don't forget that they take the whole of your weight all of the day.'

Mr Tye Lee Tze
Diabetics are in grave danger of losing their limbs to gangrene, as the disease causes them to lose sensation, so wounds and ulcers may fester in the foot without their knowledge.
Mr Tye's job is to teach them how to prevent this from happening. In certain cases, a podiatrist is more effective than a doctor.
One 74-year-old patient, who asked not to be named, had seen several specialists about the thickening of the skin on the sole of his foot before he was recommended to Mr Tye.
"I don't know why, but the specialists either couldn't or just didn't help me," he said. "I was so happy to see him because it was very painful to walk. Now I see Lee every five or six weeks to shave the skin off.
"There's no more pain, and I can walk for miles] comfortably."
Podiatrists also carry the all important function of education which doctors seldom have the time to dom from teaching patients howl to care for the feet to selecting the right footwear.
In fact, never take a podiatrist shoe shopping unless you want to make an enemy of shop assistants. This is how Mr Tye buys his shoes:
"See that it is firmly supported at the base of the heel, as a Iot of weight is distributed here," he said, picking up a battered pair, of trainers to demonstrate.
"Next, flex the shoe. It should bend at the widest part, where t ball of your foot is. If it bends too far forward, it will cramp your toes.
"Then, wring the shoe like a towel, to see if it can. i take the wear and tear. It shouldn't be t flexible or too rigid."
Shoes are important, he said, especially r children. Australian studies show that 85 per cent of pie never learn to walk correctly.
So it is important that toddlers get off the right foot. If they play on surfaces like sand or turf, t ey need shoes as the surfa e gives to the natural contours of the foot. But on hard man-made surfaces, the right shoes are essential.
Despite his youth, Mr Tye — and Tan Tock Sens Hospital, obviously — has no doubt about his competence.
Hard work is nothing new to him. He worked his way through university holding three jobs, in bar, ice-cream shop and trade fair.
While working as a podiatrist in Australia he coven moonlighted as a stuntman and enjoyed it so much, that he contemplated a switch in careen. The good news is, girls, the feet won.