Tye Lee Tze - the 1​st​ Podiatrist in Singapore
Tye Lee Tze is recognised (by the Ministry of Health Singapore) as the 1st Podiatrist in Singapore when he was appointed to Tan Tock Seng Hospital in 1993.
Tye has been a Podiatrist for the Standard Chartered Singapore Marathon, the JP Morgan Chase Corporate Challenge, Adidas Runners Day, New Balance Real Run, & Adidas Sundown Marathon.
Tye has been featured in various media including the Straits Times, Business Times, Channel News Asia – Prime Time Morning, Radio 93.8, and various magazines including Run magazine, Shape magazine, Harpers Bazaar, and Reader's Digest. He has given talks on foot related topics and running shoes for various multinational companies and hospitals around the region.
Tye was a co-founder of "On-Track Shoe Reviews" – a Singapore Sports Council initiative for reviewing shoes in 2008 and for the Sports Medicine Association Singapore shoe reviews in 2018.
He has also been a lecturer for Diabetic Footcare for Doctors and Nurses in primary care and conducts workshops for various professional bodies including the Graduate Diploma in Sports Medicine program with NTU LKC School of Medicine.
First Podiatrist in Singapore
As the first podiatrist in Singapore, Tye has a deep well of experience in all areas of podiatric practice that's drawn from over 30 years of clinical experience in Australia, Malaysia and Singapore in both the hospital and private practice settings.
Working closely with many medical specialists, his approach is a wholistic form that takes the multi-disciplinary patient-centric approach. In this way, the patient gets the best of all areas of treatment.
Among the many medical specialists he has worked closely with are:
Since graduating from Queensland University of Technology in 1990, Tye has practised his university's motto – university for the real world, which means the approaches must have a solid sound evidence-based foundation but they must be applicable in the real world. One example – Tye has found working solutions for ladies who fear they are destined to wear "grandma" shoes all the time.
At The Podiatry Centre, you will get the evidenced-based personal treatment that you deserve, the treatment that flows from the Golden Rule – to be treated as we ourselves would want to be treated.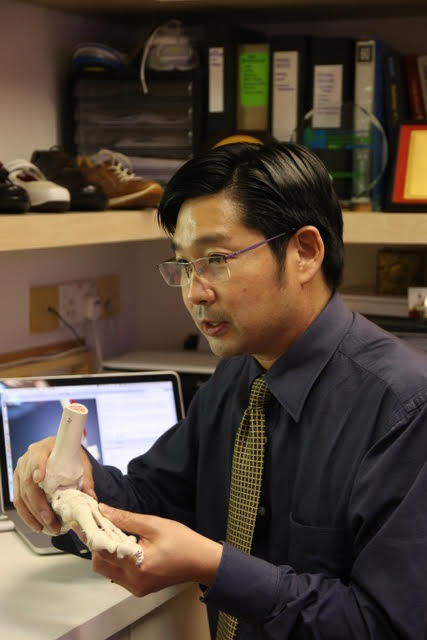 In commemoration of Podiatry Day 2019, Podiatry Association Singapore presents a short production on 'Podiatry Beginnings', focused on two persons who have contributed greatly to the founding days of the podiatry profession in Singapore – Dr Shanta Emmanuel and Mr Tye Lee Tze.